What is Gem

Gem is an item that you can put on your equipment example boot,gloves,hat,armor,sword etc.There is various of gem that you can find in game and each gem has it unique stat so you need to be smart to put a gem into your equipment

.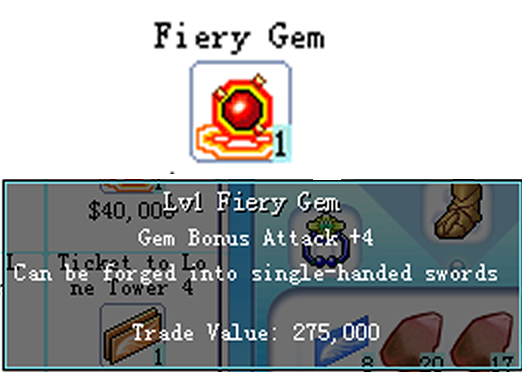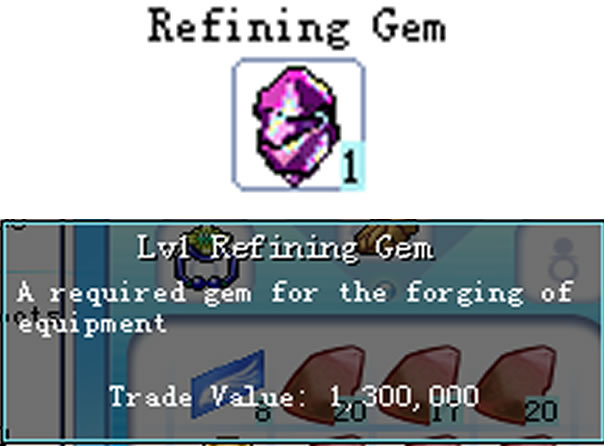 That an example how a gem look like.Okay the second thing you guys need to know before forging is Refining gem,it can be cantegory as gem as well.You will need it if you want to forge your gem and it have to be the same level as your gem that you want to forge.Example Lv2 Gem of Rage so your refininf gem should be level 2 also and onward.The 3rd things you need to know is Socket on your equipment,each equipment you can make 3 free socket slot.Each socket can only be put 1 type of gem only so in 1 equipment there will be only 3 type of gem.
Where can you find the gem

You guys can found it on Npc or Mobs.Npc gem seller you can find it on Argent City at 2203,2733,and for the mobs(it refer for monster) you can find it from Boss Mobs like Abbandon Lv10 Bosses/BlackDragon and etc.
How the forging work

To forging a gem into an equipment you can only do it at Shaitan Blacksmith.You can find it at 901,3496 Shaitan City.Talk to him and choose "Forge" then you will see these show up.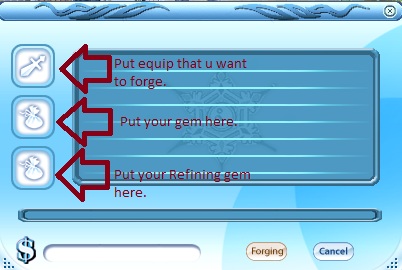 When all the item place at right place you can start your forge by clicking "Forging" and ofcourse it will cause you some money and few minutes to wait your forging done.And your just mastered skill of forging

.But rememmber you need to forge by following step by step,Lv1 first then Lv2 forge after Lv3 and so on,you cannot skip your forge directly it will have bad effect trust me.Also your refining need to be same level as your forge gem.Thank You,enjoy the game